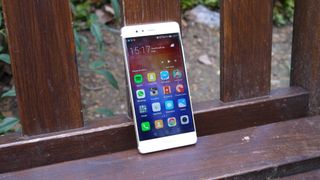 Huawei is the third-largest smartphone manufacturer in the world, but you'd hardly know it in the West. That could all be about to change though, as the company is slowly but surely stepping out of the shadow of its rivals with impressive phones like the
Huawei P9
, which combined high-end specs with an innovative camera and a pleasantly low price.
Next year the company is expected to follow that up with the Huawei P10, and based on early rumors this could be a no-compromise handset with truly top-tier specs.
We're collecting everything you need to know about the phone below, including the likely price and release date, to give you the clearest possible idea of what to expect from Huawei's next flagship.
Cut to the chase
What is it? Huawei's upcoming flagship phone
When is it out? Probably April 2017
What will it cost? It's going to be expensive, but may undercut rivals
Huawei P10 release date
Huawei announced the P9 in early April 2016, and the phone hit stores in mid-April. Roughly a year between models tends to be the way of things in smartphone world, so April 2017 is our best guess for now, especially as the
Huawei P8
also launched in April.
Huawei's marketing director for sub-Saharan Africa, Hawa Hyath, has also confirmed the P10 will be the next focus for the company suggesting a 2017 release date is on the cards.
Huawei P10 screen
Hottest leaks:
A 5.5-inch screen
A QHD resolution
A curved screen
The screen is one of the few ways in which the Huawei P9 doesn't quite feel like a flagship, as it has a 1080 x 1920 display, where many high-end phones now have QHD ones.
But it looks like the Huawei P10 could be falling in line with rivals, as
a leaked benchmark
points to a 1440 x 2560 screen. It could also be set to grow, from 5.2 inches on the P9 to 5.5 inches, if the benchmark is accurate.
It's also possible that the Huawei P10 will launch in both flat and curved varieties, if the leaked image above, spotted on
Weibo
, is accurate. This shows the curved version, but a flat model was shared by the same source, suggesting we could see both.
TechRadar's take: A jump to QHD would make sense to help the P10 stand out from its predecessors and stand up to rivals, while 5.5-inch displays have become the new normal, so a jump in size is also likely, and Huawei has already launched a curved phone, so there's every chance it will add curves to its flagship.
Huawei P10 design
Hottest leaks:
An all metal body
A fingerprint scanner on the front
A redesigned antenna band
We can do more than talk about the Huawei P10's design, we can even show you pictures, albeit leaked ones of an alleged prototype, which may or may not reflect the final design of the phone.
Still, assuming they are accurate the Huawei P10 is set to look a lot like the P9, with a slim metal shell, shown here in pink (or rose gold as it will probably be called).
But there are a couple of key differences, the biggest being the placement of the fingerprint scanner, which has moved from the back of the phone and now looks to be embedded below the screen.
There's a fair chance that's accurate, as front-facing scanners are more common than rear ones and arguably more convenient, since you can still use them when the phone is placed on a surface.
Huawei also put a fingerprint scanner on the front of the recent Huawei Mate 9 Porsche Design. It's also a rumor that first appeared back in June, as reported by
Mobilissimo
, quoting a Weibo tipster, and has been
echoed again
more recently.
On the other hand, a leaked render (shown above in the screen section), shows a home button on the front but a fingerprint scanner on the back, so don't count on the scanner moving - though having a home button and not building the scanner into it seems an odd choice, so we're more inclined to believe these leaked real world shots.
The other big change to the design shown in these images (also leaked on
Weibo
) is the placement of the lower antenna band, which on the P9 runs straight along the back of the phone, but here curves along the bottom edge, making it slightly less visible and a lot more like the
iPhone 7
.
TechRadar's take: These leaked P10 images look believable – but as they're seemingly prototypes they could be subject to change. Regardless, we'd expect a similar design to the P9, with just a few changes and refinements.
Huawei P10 camera and battery
Hottest leaks:
A dual-lens snapper
12MP rear camera and an 8MP front-facing one
Fast and wireless charging
The dual-camera was one of the Huawei P9's standout features, so we'd expect a similar snapper to arrive on the P10 and early rumors suggest that's exactly what we'll get.
First there's a
leaked benchmark
, pointing to a 12MP rear camera and an 8MP front-facing one – there's no mention of dual-lenses, but those megapixel counts are the same as the P9.
Then, there's the leaked shots, which you'll see above in the design section, clearly showing a dual-lens camera on the back, with an altogether similar design to the P9, including what looks to be a dual-LED flash.
We'd be surprised if the camera doesn't get an upgrade of some kind though, so despite what the benchmark says it's possible that it will fall in line with the
Huawei Mate 9
, which has a 20MP and 12MP camera pair on the back.
Whatever the megapixel count, it's likely that the camera will work much the same here as on the P9, with one lens taking monochrome shots and the other used for RGB (color).
Most of the time you'll be combining the two sensors, to capture more detail in images, but you can also choose to just use the monochrome sensor for black and white shots.
There's no news on how big the battery will be, but the P9 has a 3000mAh one while the massive Mate 9 has a 4000mAh one, so perhaps Huawei will split the difference and give us a 3500mAh juice pack?
It's likely to plug in via USB Type-C, given that the P9 does, and according to a
Weibo source
it will support fast charging, while
another source
claims the P10 will support wireless charging.
TechRadar's take: We'd be very surprised if the Huawei P10 doesn't have a dual-lens camera, but some improvements are likely, whether they take the form of more megapixels, optical image stabilization or something else entirely.
Huawei P10 OS and power
Hottest leaks:
6GB of RAM
A powerful Kirin 960 processor
Up to 256GB of storage
According to both a leaked benchmark and a
Weibo post
, the Huawei P10 will have a Kirin 960 processor. That's an octa-core chip, and it has already been used in the Huawei Mate 9, a phone which we found to offer slick performance, but not quite match the Exynos-powered
Samsung Galaxy S7
in benchmarks.
It looks like the Huawei P10 could come in two variants though, one with 6GB of RAM (highlighted by both current specs leaks) and one with 4GB of RAM (mentioned just by the Weibo post).
Where the two leaks don't line up at all is in storage capacities though, with the benchmark suggesting a massive 256GB built in, while the Weibo leak points to either 64GB paired with 4GB of RAM or 128GB coupled with 6GB of RAM.
As for the OS, that's likely to be
Android Nougat
, assuming an April launch, and indeed that's what the benchmark lists. Of course, you'll also get Huawei's Emotion UI over the top.
TechRadar's take: The Kirin 960 is likely and a jump to 6GB of RAM is believable, though Huawei's flagships often don't quite match rivals, so there may also be a 4GB version.
Huawei P10 other features
The main features of the Huawei P10 are likely to include a dual-lens camera and a fingerprint scanner. We wouldn't expect anything over the top, as the company is likely to try and keep costs down.
Huawei P10 price
Our best guess for the Huawei P10's price is to look at the launch price of the P9, which started at $530/£449/AU$799 SIM-free. Not cheap then, but less than flagships from the likes of Samsung, HTC and Apple.
But if anything the P10 could cost more than the P9, given the boost in specs and the unexpectedly high price of the Huawei Mate 9.
TechRadar's take: The P10 could be pricier than the P9, but we'd be surprised if it topped $650/£550/AU$900 – a price which would likely put it in line with rivals.